Method 1
From the device display web UI, go to the Share tab: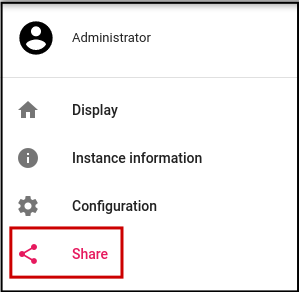 In the Embed this instance in your website box, you will be able to:
copy the code line to embed your instance in a website using iframe
select the features you wish to enable (this will automatically generate a new iframe code line)
preview the result
Warning
Please note that this method exposes your instance public IP. Also, credentials cannot be passed through iframe - this method is not suitable if you wish your instance display to be accessible publicly.
For more details, please refer to Genymotion Device image (PaaS) user guide: Share and Embbed an instance
Method 2
It is also possible to create a genymotion javascript player by importing the .css & .js file in a project, and calling the genymotionManager.add() method - so connection will be possible without using credentials and the instance IP would not be exposed (i.e. the admin area won't be accessible).
A code sample for a virtual device connection can be found in the /data/www/iframe/index.html file, in the Genymotion instance, and can be used as a template.
The parameters of the genymotionManager.add() method are:
The ID or the HTML reference to the element of the player
The webrtc address which is the public IP of your Genymotion instance
The fileupload address which is the public IP of your Genymotion instance with /fileupload/ appended
An options object, that can be used to configure the UI
Possible options are:
options = {
template: 'player', // the name of template, either "player" or "god_default"
touch: true, // enable or disable touch on mobile device
mouse: true, // enable or disable mouse clics
volume: true, // enable or disable volume widget
rotation: true, // enable or disable rotation widget
navbar: true, // enable or disable navbar widgets
power: true, // enable or disable power widget
keyboard: true, // enable or disable keyboard input
fullscreen: true, // enable or disable fullscreen widget
camera: true, // enable or disable camera widget
fileUpload: true, // enable or disable fileupload
clipboard: true, // enable or disable clipboard support
battery: true, // enable or disable battery widget
gps: true, // enable or disable gps widget
capture: true, // enable or disable the capture widget
identifiers: true, // enable or disable identifiers widget
network: true, // enable or disable network widget
phone: true, // enable or disable phone widget
resolution: true, // enable or disable resolution widget
diskIO: true, // enable or disable diskIO widget
paas: true, // ALWAYS SET IT TO TRUE
token : '', // set it to the value located at "/data/www/static/js/token.js" (it is taken from the initial value of "genymotion-web-ui-password")
stun: {}, // can be set to customize stun settings
turn: {} // can be set to customize turn settings
};