Warning
GENYMOBILE SAS assumes no liability whatsoever resulting from the download, install and use of Magisk, Xposed and Edxposed frameworks. Use them at your own risk.
Xposed - Android 5.1, 6.0 and 7.0
Prerequisite
1. Xposed Framework

You need to use one of our specific builds for x86_64:
2. Xposed installer
You can use the official Xposed installer ver.3.1.5 from https://xposed-installer.en.uptodown.com/android
Installation
Drag'n drop the Xposed framework zip file,android-X.X-XXXXXXXX-xposed-v65-sdkXX-x86_64.zip, to your instance display to flash it.
Drag'n drop Xposed Installer APK, XposedInstaller_3.1.5.apk. This should install and launch Xposed Installer application. At this stage, it will display that the Xposed framework is installed but disabled:

Reboot the instance. Do not reboot from Xposed Installer as this will freeze the instance.
Launch Xposed installer. It should display "Xposed Framework version XX is active":

Magisk + Edxposed - Android 8.0+
Prerequisite
Step 1: Install Magisk
Drag'n Drop Magisk Manager apk: Magisk-v23.0.apk. Magisk Manager will install and open. Close it for now.
Drag'n Drop the flashable archive: Magisk_rebuilt_1c8ebfac_x86_64.zip or Magisk_rebuilt_1c8ebfac_arm64.zipif you are using ARM64 instances.
When flashing is complete, reboot the instance.
Launch Magisk Manager. It will request

ROOT access

, select "Remember choice forever" and click Allow:

It is possible that the popup opens in the background and is covered by Magisk Manager main window. If so press back to access the popup and allow ROOT:

You will then be prompted with an update to apply, accept it:

The instance will reboot one more time. Launch Magisk Manager again, you should now be informed that Magisk is now installed in 1c8ebfac(23015) version:

Step 2: Install Riru
Important
Do not install the Riru version available in the Magisk Manager app. Use the old Riru v25 version provided in this article (see prerequisite).
Drag'n drop the Riru archive onto the instance display: riru-v25.4.4-release.zip. The flashing process will fail, but this is normal. The archive must be installed from Magisk Manager.
Launch Magisk Manager app and click on the last icon in the bottom toolbar to go to the module section:

Click "install from storage":

Go to the Download folder from the menu:

Select the Riru archive, riru-v25.4.4-release.zip
Reboot the instance
Riru version 25 should now be present in the installed modules list in Magisk Manager: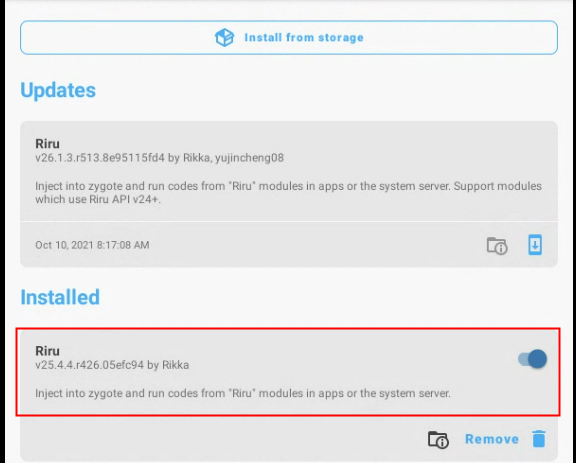 Important
Make sure NOT to update to Riru v26 as it does not work with EdXposed right now.
Step 3: Install EdXposed
You can install EdXposed framework from Magisk Manager. Go to Magisk Manager module manager:

Open the search widget and input "Edxposed". Select Riru - EdXposed:

Install the module:

Reboot the instance
Drag'n drop EdXposed Manager v.4.6.2 apk, EdXposedManager-4.6.2-46200-org.meowcat.edxposed.manager-release.apk, into the instance display.
Reboot the instance
Finally, launch EdXposed Manager. You should see that EdXposed framework is now installed: