Prerequisites
Burp suite
Android SDK platform-tools (adb)
Setting up Burp Suite
Go to the proxy tab then the options tab. Add a new listener on all interfaces on whatever port you'd like, we will choose 8080: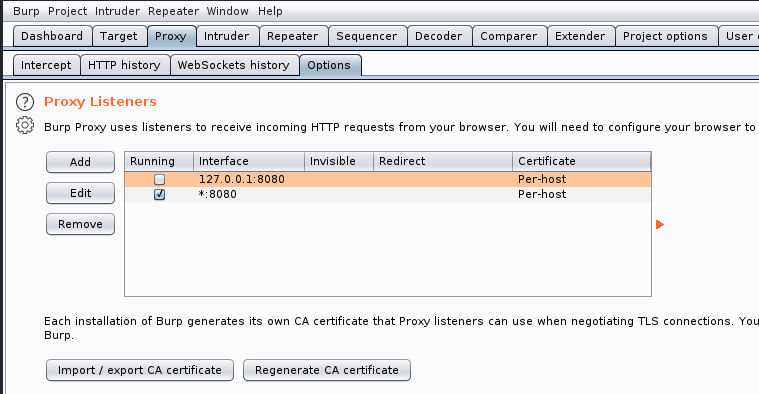 Click import/export CA certificate --> Export --> Certificate in DER format --> Choose a path and name it anything with a .cer extension --> Next
Setup the Genymotion instance
Spin up your instance and connect it to ADB. Please refer to Connecting an instance to ADB
Configure the virtual device proxy using the web device interface (Proxy hostname: localhost, Proxy port: 3333 or any other available port), or with ADB. Here we use ADB to set port 3333 but you can use any other port as long as it is available:


adb shell settings put global http_proxy localhost:3333

Important

Make sure that your Cloud network security settings (security group and/or firewall) allow TCP port 3333.

Bind Burp proxy to the device proxy configuration using the following command. We have setup Burp suite to listen to port 8080, so we will bind the device proxy to this port:


adb reverse tcp:3333 tcp:8080

Either drag'n drop the .cer file to the instance display or use the file upload widget (see File-upload feature). The certificate file will be stored in the /sdcard/Download folder.
Go to Settings and search Security & Location. Click it, then click Encryption & credentials. Now click Install from SD card and go to /sdcard/Download, where you saved your .cer file. Give the certificate a name:

Then, click ok. You are greeted with a screen asking you to set up a passcode. Comply and set a lock to secure the lock screen:

From there, your instance network should be intercepted by Burp suite.