Intel(R) integrated GPU
Note
This problem only affects Windows. Intel iGPUs work very well with Genymotion on Linux and macOS.
Genymotion Desktop rendering has compatibility issues with the display drivers for Intel UHD/HD integrated GPUs on Windows.
If your computer use this family of GPU for display, we recommend using Linux instead of Windows.
Laptop with discrete GPU
NVIDIA Optimus and AMD Switchable Graphics fail to set Genymotion Desktop to use the High performance discrete GPU.
To fix this, you need to force Genymotion Desktop use the High performance GPU. For detailed instructions, please refer to How to force Genymotion Desktop use the high performance discrete GPU on laptops?
Windows power mode is too low
Make sure to set your power mode to Best Performance: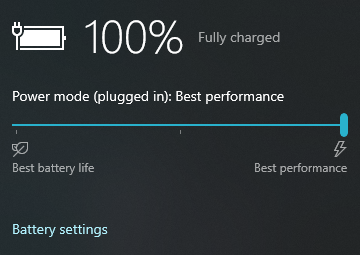 The virtual device is too powerful for your hardware
Android 9 and above need to use 4 CPU cores and 8192MB of RAM. If your PC does not have at least 8 core CPU and 16GB of RAM, it will likely run out of resources and cause instability with random crashes.
If your computer does not meet the recommended hardware requirements, prefer using Android 8.1 or below.
Upgrade VirtualBox
Genymotion Desktop 3.3 has been tested and optimized for VirtualBox 7.0.4, and we provide an installer with this version.
If you used the light installer without VirtualBox and you already have an older version, you need to upgrade it:
Download VirtualBox 7.0.4 for Windows host here.
Right-click on VirtualBox installer and select Run as Administrator.
Follow the instructions from the installer.
When finished, reboot your PC.
Disable Hyper-V
Hyper-V is known to cause performance and stability issues when using VirtualBox with Genymotion.
It is recommended to disable it when using Genymotion. See Genymotion Desktop and Hyper-V for instructions.